22m Fiberglass pole (incl. accessories)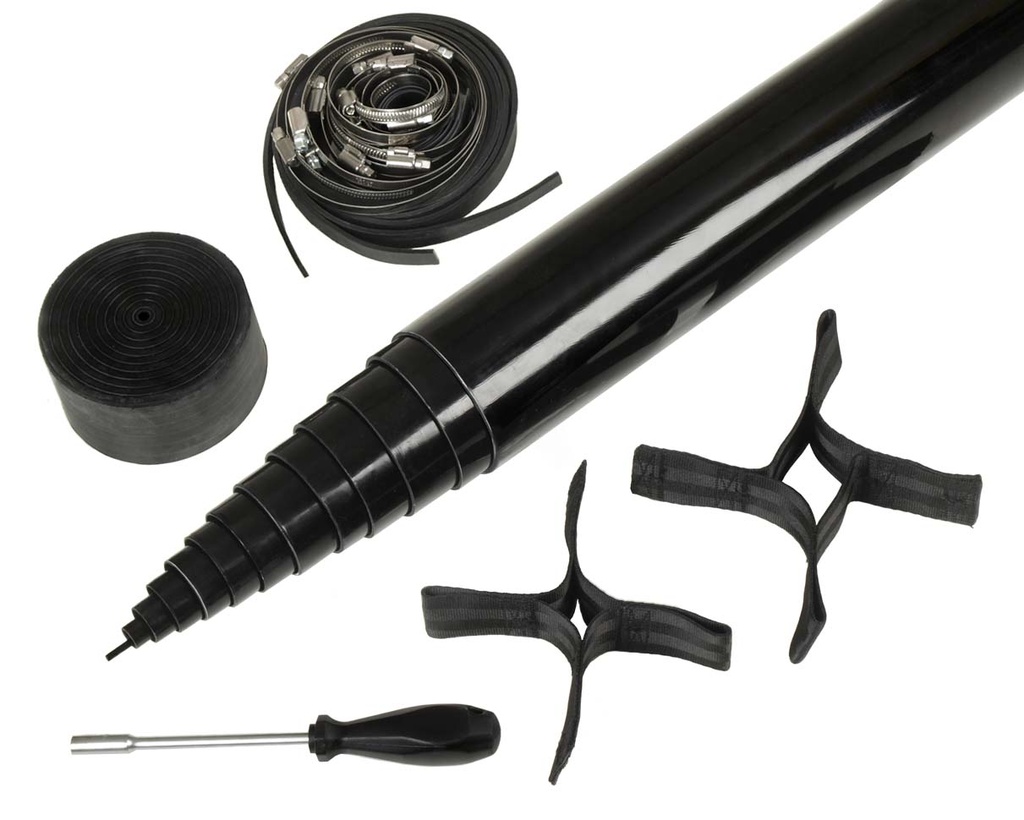 22m Fiberglass pole (incl. accessories)
---
Including clamp set, tools and set of 2 guy belts.
Professional telescopic pole for portable wire antennas.

---
This is the little brother of our incredible 26m pole. Removing the bottom two segments reduces height by 4m, but makes it a lot lighter and easier to install.

Like all our other poles, the Spiderbeam 22m fiberglass pole is carefully designed to maintain low weight and perfect balance. As usual, we have tested it thoroughly at the Baltic sea cost where it has weathered all storms without any problems.

The pole starts out very rugged at the bottom (95mm diameter / 2mm wall thickness) and still has 45mm diameter / 1.7mm wall thickness at 13.5m height! The upper sections are slim and light (1mm wall thickness), preventing the pole from becoming top-heavy and keeping it perfectly balanced. A special reinforcing winding technique - several layers of fiberglass are wound in alternating direction (criss/cross winding) - provides greatly increased lateral and linear strength.

High strength professional telescopic fiberglass pole
Fully extracted length (height): 22m (72ft)
Transportation length: 2.00m (6ft 6")
Weight: 13kg (28lbs)
Bottom diameter: 95mm (3 3/4")
Top diameter: 4mm (1/6")
Wall thickness: 1mm - 2mm (1/25" - 1/12")
Number of segments: 13
Pole material: Black fiberglass, UV protected, specially reinforced multilayer winding

These poles are perfect for building all kinds of wire antennas, especially 80/160m wire GP or inverted L antennas. They can also easily support temporary lightweight 1 Element Quad or Delta loops for 40-10m, and dipoles for all bands, especially when used with open wire feedline. (Most baluns would be somewhat heavy). 4-6 poles could be used to build lightweight beams for 40 or 80m The best (and cheapest) wire to use for building such wire antennas (verticals, loops, dipoles etc.) is AWG 18 (= 1mm diameter) enameled copper wire or similar.

For example a 20/15/10m 1el quad can be installed at 16m height above ground. Our vertical junction box / radial plate makes building wire verticals very easy.

The pole comes complete with a set of 12 rubber padded stainless steel clamps, a 7mm nut driver and 2 guy rings made from strong belts, for guying the mast the 5th segment and above the 9th segment. The best suitable rope is our 2mm Kevlar rope.

By the way, all our fibreglass poles can easily be shortened by any segments. (simply open the bottom and remove).
This way you can also use only the desired lengths, such as turning an 18m mast into a stiffer 14.9m mast or a 12m mast into a stiffer 9.90m mast.




This is a preview of the recently viewed products by the user.
Once the user has seen at least one product this snippet will be visible.
Recently viewed products