Aerial-51 Antenna Modell 404-UL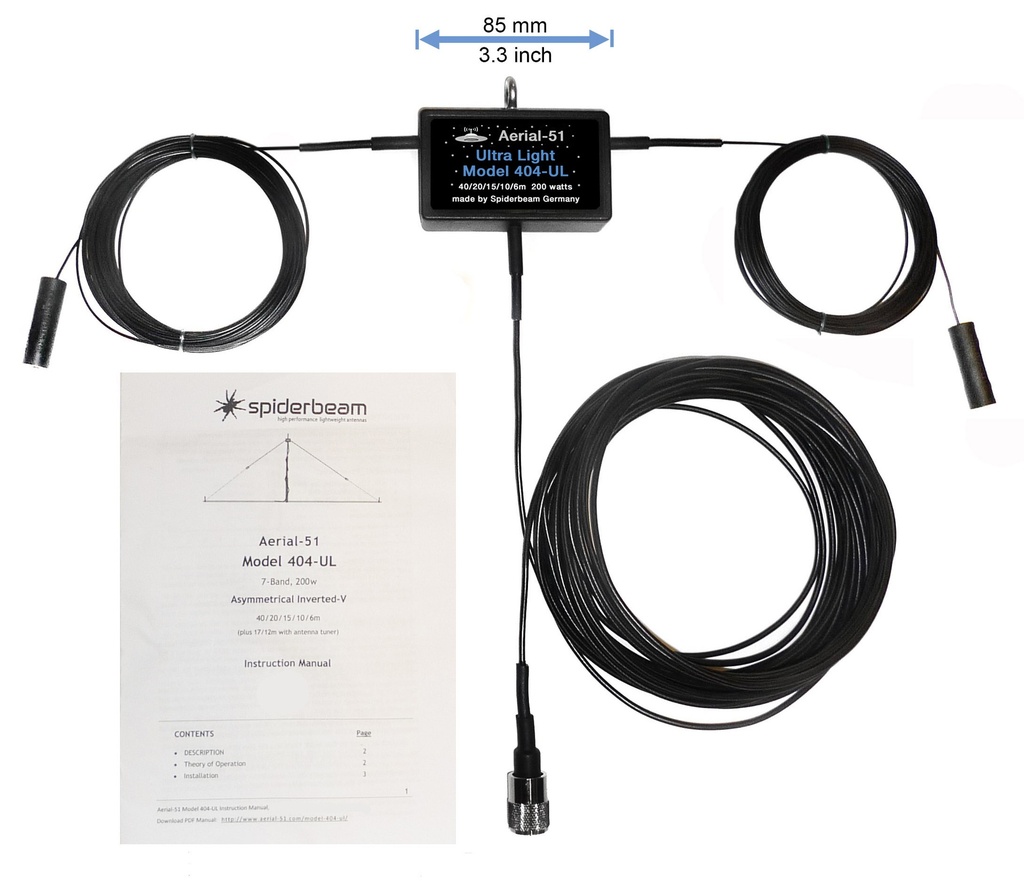 Aerial-51 Antenna Modell 404-UL
---
Asymmetrical dipole for 40-20-17-15-12-10-6m
---
Ultra lightweight, asymmetrical dipole operating on 7 or 8 shortwave bands:


Bands: 40m / (30m) / 20m / 17m / 15m / 12m / 10m* / 6m
SWR (typical): < 1.7 / < 6 / < 2.2 / ~4.6 / < 2.0 / < 3.5 / < 2.2 / < 2.5
Maximum Power: 200W / (75W with tuner) / 200W / 200W with tuner / 200W / 200W with tuner / 200W / 200W

*(below 29.0 MHz)

Antenna length: approx. 21m - strung in Inverted-Vee style
Weight: only 435g (including balun and 12m long special coax)

FOR HORIZONTAL ANTENNAS, HEIGHT = MIGHT!!

AERIAL-51 is a new antenna concept for combining extremely lightweight wire antennas with lightweight telescoping fiberglass poles, enabling rapid deployment of efficient antennas (within minutes) at heights previously unobtainable with a portable product.

Model 404-UL is an ultra lightweight, asymmetrical dipole for operation on 7 or 8 shortwave bands. It is constructed using very light, yet strong components. All hardware is stainless steel. The antenna radiator is made from UL-wire / Liv-2Yz (ultra light armid synthetic fibre and copper strands, Insulated). The antenna comes including 12m coax which despite the low weight (only 185g) shows only very modest losses (~1dB on 40m, < 2dB on 10m). The ultra lightweight matching unit not only matches the coax to the antenna, it also provides excellent choking resistance to suppress common mode current.

Its super lightweight makes Model 404-UL ideal for portable use with any of the Spiderbeam telescoping fiberglass poles (12/18/22/26m), turning your little pistol station into a BIG GUN.

No other portable antenna on the market combines so many bands with such high efficiency and such low weight!
Top Choice for: Antenna restricted neighbourhoods – Campers – Hikers – Bikers – SOTA – IOTA – Emergency Communications – and many more...

This is a preview of the recently viewed products by the user.
Once the user has seen at least one product this snippet will be visible.
Recently viewed products