Aerial-51 807-HD Version 75m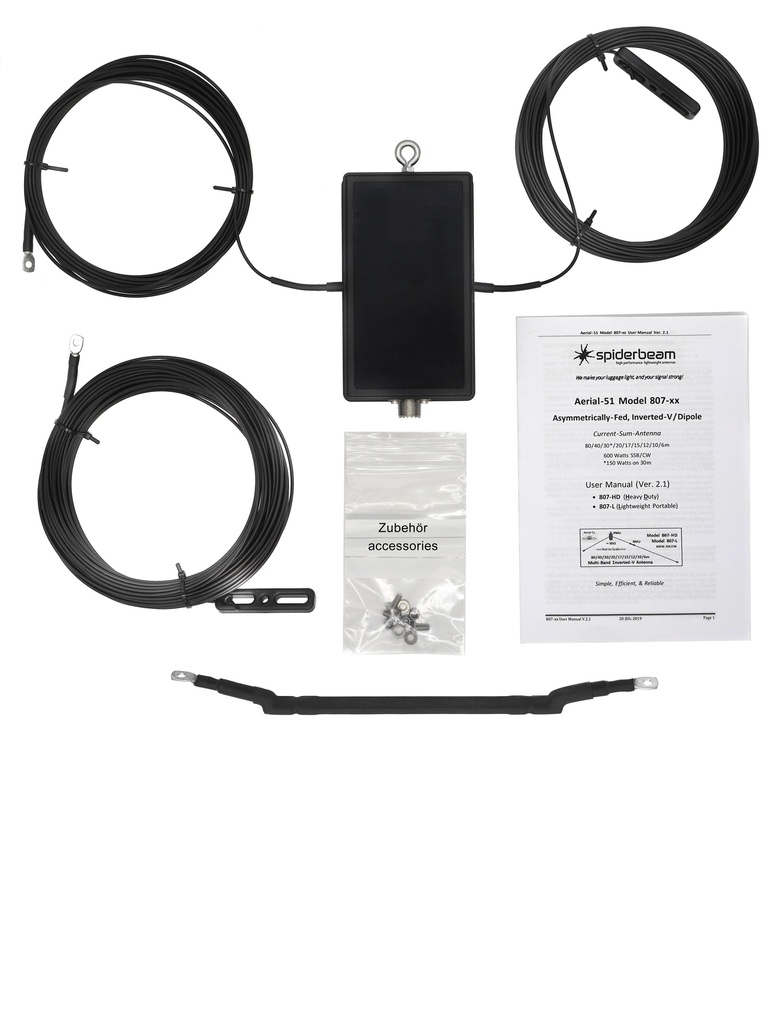 Aerial-51 807-HD Version 75m
---
for 7 bands + possible 6m / 30m
---
Aerial-51 Model 807-HD 75m

HEAVY DUTY Asymmetrical Dipole, 7 HF Bands +6m; (+30m with tuner/reduced performance):

Bands: 80m / 40m / 30m / 20m / 17m / 15m / 12m / 10m / 6m
SWR (typical)*: < 1.8 / < 1.5 / < 8 / < 1.6 / < 1.6 / < 1.5 / < 2.7 / < 1.5 / < 2.2
Maximum Power SSB / CW: 600w / 600w / 150w with tuner / 600w / 600w / 600w / 600w / 600w / 600w

*SWR averages near resonance. SWR varies slightly with height and from one location to another. 80m resonance is mid band (IARU Region One).
Tuner required to cover full 80m band. SWR rises towards band ends. Depending on the transceiver's requirements, an antenna tuner may be required on some bands. DO NOT EXCEED POWER LIMIT ON 30m.

Antenna length: approx. 40.8m (134 ft.)
Antenna weight: only approx. 800g (1.5 lb.)
Nominal height: 12m (40 ft.) or higher.

This package contains the RMU for 75m (min SWR ~ 3900 MHz)

FOR HORIZONTAL ANTENNAS, HEIGHT = MIGHT!

Aerial-51 has developed a new antenna concept for combining lightweight wire antennas with lightweight telescoping fiberglass poles, enabling rapid deployment of efficient antennas (within minutes), at heights previously unobtainable with portable products.
Users of the popular Model 404-UL antenna requested an 80m version and Spiderbeam responded with the Aerial-51 Model 807-HD wire antenna. Our 807-HD (heavy duty) uses strong CQ-532 wire for permament installations.

The 807-HD was designed with the same focus on material quality as the other Aerial-51 antennas. It uses insulated, stranded copper-clad steel wire with a breaking strength of 50 kg, and a Teflon-insulated SO-239 coax jack with gold contacts. The Hybrid Balun and RMU are the same as used in the 807-L portable version, but in this heavy duty version the Balun is also potted with Epoxy for better weather protection. This combination of Balun and RMU optimizes resonance of the antenna on all bands, while assuring the antenna and feedline are not plagued with problems caused by common mode current, as most competitive OCFD products are.

Installation may be as 'Inverted-V' or 'Flat-Top-Dipole', but the balun and feedline should always be mounted to a support such as fiberglass pole, aluminium mast, or tree. There is no specific required length of coax. Use any 50 Ohm coax with the antenna, but do not use too heavy of a coax to run up a thin fiberglass pole.

For portable DX-pedition use, Spiderbeam also offers the special Model 807-L (special lightweight version, on request only, as well as price and delivery time).
It is the same as the 807-HD but uses special thinner wire Poly-Stealth 22.

If you have any questions about installation, please consult Spiderbeam by E-mail: Info@Spiderbeam.com.




This is a preview of the recently viewed products by the user.
Once the user has seen at least one product this snippet will be visible.
Recently viewed products