26m/85ft fibreglass pole (incl. accessories)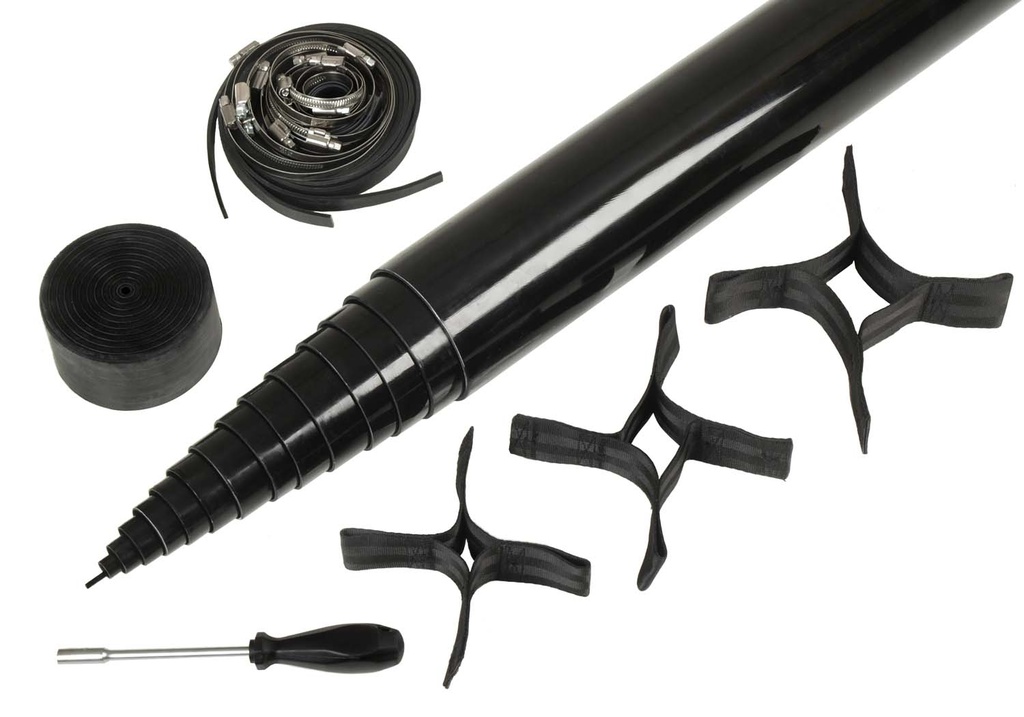 26m/85ft fibreglass pole (incl. accessories)
---
Inclusive clamp set, tools and set of 3 guy belts.
Fiberglass pole (22m/85 ft) for portable wire antennas.

---
Our tallest fiberglass mast - incredible 26m high!

This mast is built in the same construction as our proven 12m and 18m fiberglass masts. Special attention was paid to low weight and perfect balance. During extensive testing / permanent installation for several months on the Baltic Sea coast, it has withstood all storms without any problems and thus reached the necessary product maturity.
 
Specially reinforced professional fiberglass telescopic mast
Full height (length): 26m
Transport length: 2.00m
Weight: approx. 19kg
Diameter bottom: 108mm
Diameter top: 4mm
Wall thickness: 2.5mm (bottom) - 1mm (top)
Number of segments: 15
Material: fiberglass, black, UV resistant, multi-layer wound and specially reinforced
 
This mast opens completely new perspectives for the construction of large 160m antennas!
With a small roof capacity of wires it becomes a fullsize 160m vertical in no time, erected in only one hour. With this mast even portable 160m 4-square arrays and other interesting experiments on the lower bands become possible, e.g. vertical 40m dipole arrays. Likewise, a 1 element quad for 20/15/10m can be built at 20m.

Tailor-made for the construction of wire verticals on our fiberglass masts we offer our radial connector box.

The pole comes complete with 14 rubber padded guy clamps, the matching 7mm socket wrench and 3 guy rings (made of sturdy plastic webbing), for guying the mast in 3 levels: above the 4th segment, above the 7th segment, above the 11th segment. For the two lower guyings (above segment no. 4 and 7), our 2mm Kevlar cord is most suitable. For the top guy (above segment no. 11), our thin 1mm Kevlar cord is best.




This is a preview of the recently viewed products by the user.
Once the user has seen at least one product this snippet will be visible.
Recently viewed products