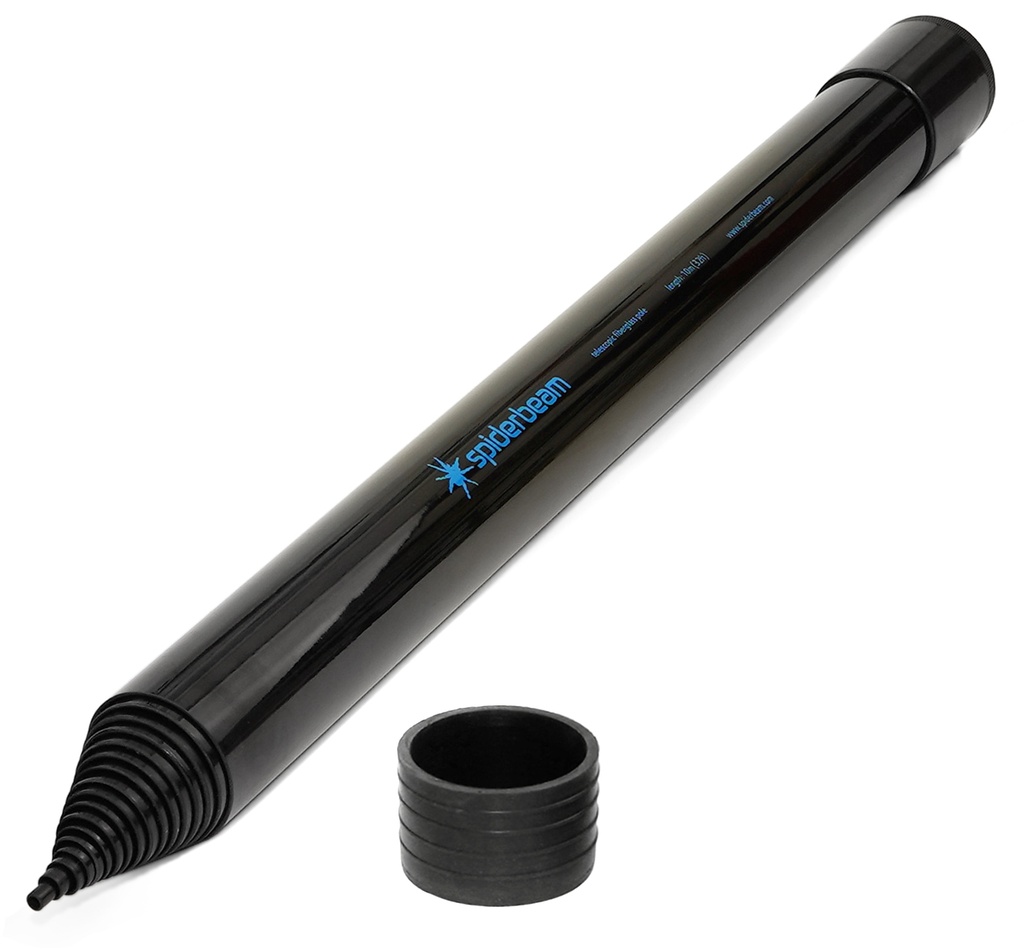 10m Fiberglasmast
---
Mini Teleskopmast, max. Höhe 10m, 72cm Transportlänge.
Passend für Koffer und Reisetaschen / 17 Segmente. Perfekt für SOTA, IOTA und Geocaching.
---
The new Mini telescopic fiberglass pole

Fully extracted length (height): 10m*
Transport length: 0.72m
Weight: 2220g
Bottom diameter (incl. the cap): 66mm
Top diameter: 6mm
Wall thickness: 0,7mm - 1,4mm*
Number of segments: 17
Pole material: black fiberglass, UV protected, specially reinforced multilayer winding

*Due to production variations, the dimensions shown may vary slightly. This does not alter the quality in any way.

This pole is easy to carry and ready installed within a minute.
Although it is light and small enough to fit in any large suitcase, it was developed to be rugged and durable!
This ultra-portable Mini pole has a heavy-duty screw-on base cap at the bottom to protect its segments from rocks and mud.
Nubs on the bottom of the pole help prevent slippage.
Spiderbeam fiberglass poles are extremely strong, with a much greater wall thickness than the typical "fishing rod" types.
It uses a special reinforced winding technique – where several layers of fiberglass are wound in alternating direction (criss-cross wound) – providing greatly increased lateral and linear strength. The Spiderbeam Mini-poles have a much larger overlap between segments than most other fiberglass poles, which assures stronger joints between segments, and results in a much stronger pole.

The Mini Spiderbeam fiberglass poles are perfect for building various temporarily erected wire antennas (SOTA / IOTA) but also perfect for geocachers.
Our Mini Poles are very handy with the screw base, simply locked like a fishing rod by "pull&turn" and are thus already ready for use.
However, they are not intended for permanent installations (over several days or longer), because temperature fluctuations and weather can loosen the connections.
For permanent installations we recommend the poles from 12m with the appropriate accessories (sets of clamps, guylines and guying belts).

By the way, all our fibreglass poles can easily be shortened by any segments. (simply open the bottom and remove).
This way you can also use only the desired lengths, such as turning an 18m mast into a stiffer 14.9m mast or a 12m mast into a stiffer 9.90m mast. 

This is a preview of the recently viewed products by the user.
Once the user has seen at least one product this snippet will be visible.
Zuletzt angesehene Produkte